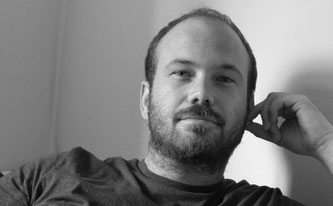 Mads Mygind first discovered Circolo Scandinavo after a trip to the Danish residency at San Cataldo. He had been down at the Amalfi Coast writing and afterwards he visited Rome for one week with his friend. One day he was walking around in Trastevere and walked past the building where Circolo is located and saw the sign with Circolo´s name. He was already familiar with the Danish Institute here in Rome, so he immediately got curious what kind of place Circolo was. He had recently started to work on a poem located in Italy and he thought it would be perfect to apply for a residency and come to Rome to continue with the writing. He also wanted to come back, not as a tourist, but instead to work and to get inspired. So, in December 2017 he was an artist-in-residence at Circolo for the first time.
A funny story is that the first time Mygind visited Rome he didn´t like the city at all. He was here 12 or 13 years ago with his girlfriend on a summer vacation. It was 43 degrees outside, and the couple lived in "a terrible little cockroach room" as Mygind describes it. The area they stayed in wasn´t ideal, near the train station Termini with "too many hustlers and thieves on the streets and the tourists were just as terrible" and since this was in August all the romans were out of town and many places were closed for vacation. Mygind and his girlfriend were students at that time and their travelling budget was limited so they didn´t really experience anything and they couldn´t afford any nice dinners. Then the trip to Rome after San Cataldo completely changed Myginds view on Rome. Even though it was summertime and 40 degrees outside and he felt like he didn´t do anything else than try to find shades and stand in supermarkets just because there were air-conditioning, he says that he loved being in Rome as a tourist that time. He also felt a strong urge to come to Rome in November or December when he might be able to get some work done.
When Mygind came to Rome in 2017 he saw a completely different city with barely any tourists, the city was calm, and it was cold. He could stop in the middle of the street or on Ponte Sisto to take pictures without getting burnt by the sun. He sat in a lot of churches just listening to the silence and if he felt cold, he went to a café to drink some warm coffee. In 2018 Mygind stayed at the Danish Institute and during that time he revisited some museums, squares and St. Peters Church. Now during his residency in 2020 he doesn´t need to spend time going to the main tourist attractions and instead he can solely focus on his work.  He likes to go to cafés to read and write or go to a library to read and write there. He is experiencing more of Rome now than in the summertime when it is 40 degrees. He describes this January weather like perfect thinking and writing weather and the city comes alive inside of him simply when he hears the language and feels the smell of the city. He feels more efficient now and he is getting more work done than the first time he was at Circolo. The previous time he just wanted to see everything, walk around and stay extremely active but this time he spent more time in his room just reading and writing.
Mygind enjoys working at Circolo because here he can concentrate more on his work than back in Denmark and he feels more committed to the writing. Here he doesn´t have any meetings or someone constantly interrupting his work. He checks his email once a day to keep the inbox tidy and he occasionally gets a text message but other than that no one bothers him. He can decide in the morning what he should do during the day whether it is writing a poem, reading a poem or simply walking around in the neighbourhood for inspiration. He points out that he feels like the day is twice as long here than back home. Sometimes he wakes up early in the morning to read a whole book of poems and sometimes he stays up late just to walk around in Rome. Everything he sees and reads are constantly in the back of his mind and he might be able to use it in a text or poem later on. He also enjoys meeting new people at Circolo and chatting in the kitchen with the other artists. He wants to contribute to the place, like give a presentation at the Meet the Artists event, but he still wants to have a lot of time for himself and the freedom to work.
Mygind is currently working on a book that has been in the works for many years. He calls it "a book of poems that in a way is one very very very long poem that is situated here in Rome". The book will also contain poems of other big cities around the world. This means that he has been travelling a lot lately, he has been to Paris four times, he has been to New York three or four times and in Berlin around ten times. All these poems are going to be published in one large book and all the poems are situated outside of Denmark where Mygind normally lives and writes. He hasn´t quite yet decided if he sees the book as many small poems situated in different cities or if every city has its one long poem.
For the artists that are coming for the first time to Rome and Circolo, Mygind gives the advice to structure your day and not have a long list of attractions to see. It is important to prioritize what you do since there is always a new exhibition, a concert or a new restaurant. He explains that the first time he was here he had his antenna out all the time because he wanted to see and experience everything and at the same time get a lot of writing done. Unfortunately, in one month it is not possible to see as many attractions as possible and get a lot of writing done at the same time. This time Mygind decided beforehand on what he wanted to see, and football was one of those things. There were several options for him this month, but he picked out two games that he wanted to see, Lazio-Napoli and Roma-Juventus. Then one weekend he worked during the days and then took the evenings off to see the games.  
One thing that never disappoints Mygind is the food here in Rome. He rarely goes to the same place twice since there are so many good trattorias and osterias in the area. He is interested in food and wine but here in Rome he likes to eat the classic pasta dishes like cacio e pepe and a glass of house wine. The standard and quality of the food is high even in the smallest and quirkiest places and he just want to try as many restaurants as possible. During this trip Mygind found a neighbourhood he had never been to and which he began to like immediately. This was the neighbourhood called Testaccio, on the other side of the Tiber, just a short walk from Circolo. He liked that the area was so calm and much more local than Trastevere. He also found a good foodmarket, Mercato Testaccio that he recommends for everyone to visit. At the market you can find good and cheap pasta, pizza, sandwiches, soups and so on. He enjoyed just walking around in the neighbourhood, with its small places not overrun by tourists, and just taking in everything he saw.
Photo: Morten Søndergaard
Text: Tinja Räsänen