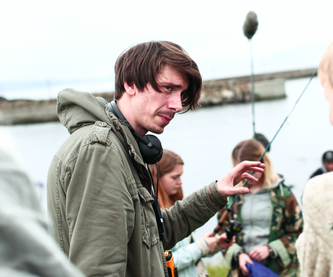 Sakaris Stórá has always been reading a lot about Rome, specially the old history of Rome which has always fascinated him. He visited the city for the first time two years ago, 2017, at the Alice nella Cittá Film festival, where he screened his feature film Dreams by the Sea.
Stórá says that is has been good to work at Circolo and that he feels like he has all the space he needs, and he only needs to focus on work, which is a good thing. He says that it is also funny how much it changes the perspective on things when you move to a place that is so much in contrast to your home and some things have been very hard to do. For example, he is writing a film about a fish factory and sometimes it is difficult to get into to the right mood, because it is almost like summer here even though it is November. At the same time, he feels like that perspective has been really healthy for other things he is writing on, because he feels more free in a way and since he is so far from everything, he can basically write whatever he wants.
Stórá has known about Circolo and the residency program for a very long time. After he was in Rome in 2017, someone back home mentioned to him that he should apply for residency here. He didn´t do it immediately though but now when he is basically just writing all the time, he felt like it was the perfect time. He is doing revisions to the script for the film about the fish factory, a project that he has been working on for some time now and it is very close to coming alive. He also had another goal which was to start another project, which he also did. The new film project would also take place in the Faroe Islands, in the capital city.
One of the biggest benefits at Circolo for Stórá has been that he has met other artists from a lot of different fields of work, with a lot of different experiences and different kind of approaches. He also likes that one meets people from all the other Nordic countries, which he also finds inspiring and that has been one of the greatest things here, just to sit around and talk about things.  One of the things Stórá has liked most about the city is the climate. He tells that the weather in the Faroe Islands is horrible this time of the year and, they just had a storm and it has been raining a lot there, so it is very much the opposite to Rome. He remarks that in Faroe Islands it doesn´t snow as much as it did some years ago and the snow seldom stays for more than one day and he doesn´t see people building snowmen anymore.
Stórá tried not to have any expectations before coming to Circolo and just meet everything with fresh eyes. He wanted to get thrown into everything. He knew the area Trastevere, he was staying in Rome for five or six days during the film festival and then he visited most of the tourist spots. This time he has not been visiting those places because he doesn´t want to have that kind of tourist perspective. He has been focusing on seeing the smaller places in the area and there is so many hidden gems around. Beside the small food places, he says that one thing that has started to fascinate him is the smaller churches were people go and kind of find peace with themselves, away from the buzzing city life and the churches are also very beautiful. He is also fascinated just to observe the city life to see how people interact and how they behave, where they come from and where they are going to and you can spot the locals among the tourists and see how they behave.
Photo: Courtesy of Sakaris Stórá
Text: Tinja Räsänen