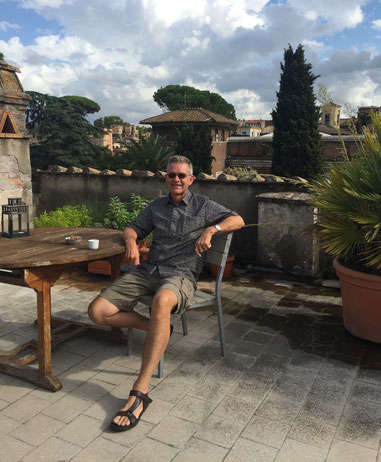 Aðalsteinn Ásberg Sigurðsson had always wanted to come to Rome and finally, three years ago, he had the chance to travel to Rome. He was in the city for nine days and he had chosen to live in Trastevere during his vacation. He also walked pass Circolo Scandinavo, the place that he for many years had thought about applying to. On his vacation he saw all the main attractions of the city. This was convenient because when he decided to apply to Circolo he only needed a workspace. When Aðalsteinn was president for the Icelandic writer's union, many of his colleges came to Circolo and that´s how he came to know about the place. He never had the opportunity to apply because he had other obligations all the time. However, he always knew that at some point he needed to come to Circolo, since his friends said it is the place to be. For him it was always a question of when and not if he should apply here.
Aðalsteinn has enjoyed working on his projects at Circolo and he has been able to concentrate on his writings, which was the foremost reason for his stay at the residency. It has also been easier for him to concentrate on work here than back home. Rome was also a good choice since he would not use his time to see the main attractions of the city. Working at Circolo was convenient also because you can choose to be on your own and as alone as you want to, but you can also mingle with the other artists. This was the tip he gave to future artists coming to Circolo, that you can be like you want to and it is up to everyone how much time you use to socialize and to work. Circolo is also a good place to work at, to get away from your daily routines.
A very important part of his residency was that he got to meet the other artists. He considers himself lucky that he got to stay in the separate studio apartment at Circolo. He felt like it was easier to concentrate on working there. Aðalsteinn says that he found the staff at Circolo much helpful with everything and he really appreciates that the staff is there for the artists. It makes life at Circolo easier to always have help on the hand.
The negative side of Rome is that it is quite noisy, even more than he had imagined and the city is alive the whole night. He thought that Trastevere would be calmer since it is not in the centre of Rome and the centre of the nightlife.
The roofterrace is his favourite place at Circolo and he went up there several times a day. On the rooftop he could do all things from writing, to thinking and he usually ate his dinner there. In his opinion the climate in September was excellent. He enjoyed the city with a lot of people and with a vivid atmosphere. In Rome you have great possibilities to see a lot of things. The location of Circolo is excellent and he was able to walk everywhere he wanted to go, and in that sense, he feels like Rome is a small town. When he needed some movement, he went running along the river. He recommends the bookstore Almost Corner Bookshop, where he found interesting books. When visiting new places, Aðalsteinn tries to find books in English from local authors. He started to think about the Italian language during his stay in Rome, and he has found a new interest in the language.
Text and photo: Tinja Räsänen