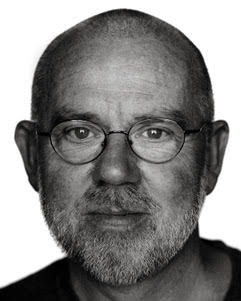 It took him 45 years, but the Icelandic artist Karl Ágúst Úlfsson is finally back in Rome. During his time as chairman of the Icelandic writers union he found out about Circolo Scandinavo and sent in an application. This June, he has been working at the residency together with his partner in life and art, Ágústa Skúladóttir.
"Being back in Rome is like meeting an old friend", Úlfsson says, not much has changed. Working at the residency has been stimulating. Despite the heat, the two Icelanders have been frequent visitors at the rooftop terrace, working under the June sun. His current project is writing a novel, an unfamiliar territory for the artist who has been working for theatre, TV and movies, both acting and writing, for over 38 years. "My goal was to write 50 pages to show to a publisher and I'm very happy to have reached that goal already" Úlfsson says. This August, a collection of short stories written by Úlfsson during a period of 10 years, will be published in Iceland.
Rome was already impressive for the 16-year-old history loving Úlfsson, and the second time around he has enjoyed revisiting old sights, but also discovering new ones. The history is so impressive in Rome, it's all around you. His favourites are the vast and rich history and architecture together with the amazing food. The best food he has eaten during June has always been at Zi Umberto in Trastevere, close to the residency. In fact, the artist can't think of anything he doesn't like about Rome.
When visiting Iceland, Úlfsson suggests you make your way out in nature. The typical tourist sights are of course worth visiting but if you need some solitude, head out! Escape the city for a hike and don't be afraid to explore places that are not mentioned by the guidebooks. Head to Snæfellsnes for less crowds and small villages and of course the majestic glacier. Iceland also has the best pools in the world, so just 
jump in!
Text: Oona Haapamäki
Photo: Jónatan Grétarsson