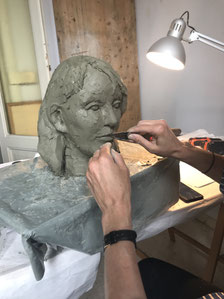 Icelandic visual and performance artist Gunnhildur Hauksdóttir is in Rome and Circolo for the first time. She finds the city an amazing combination of modern life and colossal history. Also how casually people live among history fascinates the artist. "The city is wild, and the fact that it's not meticulously maintained is interesting and gives it another kind of beauty, weeds and wildflowers flourish and I have enjoyed observing the seagull hatchery on the roof oposite the street" Hauksdóttir says. 
Living and working at the residency has been easy and rewarding for the artist and she has had time to both work on projects with fellow residence artist Bryndis Hrönn Ragnarsdóttir and focus on her own. The joint project is called "The Assembly of the Holy" and more information can be found on the website: 
https://assembly.portfoliobox.net
Hauksdóttir started experimenting with marble and ink-drawings made by stone. She went to explore marble workshops and talked to men working with Marble in San Lorenzo and managed to invest in a handsome piece of carrara marble. "Stone is also present in another project where the aim is to make imprints from stone to paper, using stone as a vessel to bring ink to the paper in a series of drawings.
Her father being an artist made the decision to become an artist a simple one. "I don't think I ever made a conscious decision to become an artist, it happened organically" Hauksdóttir says. She lives in Berlin half the time but travels widely for different projects. When comparing Berlin to Reyjavik, Hauksdóttir says that Berlin is bigger and has more artists, but doesn't have the same playfulness as Reykjavik. In Reykjavik artists create venues, initiatives and different platforms together, something she really appreciates. Germany's art scene has a very different sense of hierarchy. 
"I've been fortunate to stay here in Circolo with such interesting artists at the same time", Hauksdóttir proclaims. The month has passed by fast, as she spent some of it in Tel Aviv at the ESC watching her son perform for Iceland. She also visited Venice for the Biennale opening. The only thing that she might find disturbing or dislike about Rome is the presence of the church and how you can feel it everywhere. It's both a blessing, as the architecture is beautiful and interesting and disturbing as well, as you are continuously reminded of the church's power structure.
When visiting Reykjavik, you're to-do list should include at least the following: the major and minor art museums, but also try to explore the grass root art scene. But mostly getting out of the city and into the nature and of course go to the public swimming pools and do some hiking, even if its just in the proximity of Reykjavik, you don't have to go far to find pearls of nature. 
Text: Oona Haapamäki
Photos: Gunnhildur Hauksdóttir, last one Oona Haapamäki