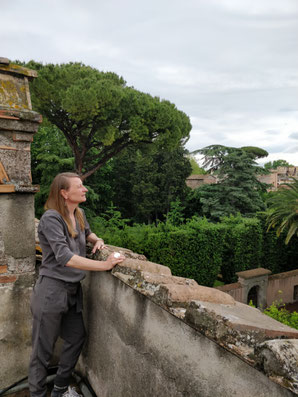 Finnish film director Pia Andell fell in love with Rome after a 10-day-trip to the city, during which she learned the structure of the city and understood how to get around without getting lost. She really enjoys Rome early in the morning when the city is still sleeping, that's the perfect time for a run along the river. The uneven pavements and the buildings covered in grapevine, bursting of luscious spring green colour, are examples of things Andell finds amazing with the city.
During her stay she has simultaneously been working with two film projects; one feature length fiction film and a documentary, both addressing medieval Finland. Hopefully both projects will see the light of day, film being an expensive tool of work.  Andell has also made a clay sculpture of a fellow artist at the residence; "I really enjoy seeing the tangible results of my work in just a few days, when a film project can take several years to come true" the film director says. 
Prior to coming to Circolo, Andell had discussed the residency with a Finnish artist who described the place as "quiet place where nobody will knock on your door". Upon arrival she realized it's everything but, with beautiful connections made between the residing artists. "When meeting artists from different fields and during such a long time, you really get to know and understand how the others are working and their reasons" Andell proclaims. The cinema experience here in Rome has been a bit puzzling to the film director, when people walk in and out of the theatre and even smoke (!) during a film. These things would not be accepted in Finland. The unusally cold May weather also called for an emergency delivery of woollen stockings so the cold stone floors in Circolo wouldn´t bother the artist. 
Originally from Turku but now living in Helsinki, Andell speaks warmly about her hometown, the oldest city in Finland. Turku is a bit like Rome, with the river Aura floating through it, surrounded by hills and close to the sea. In Turku you can really enjoy the riverbank to the fullest. She recommends just walking along the river, visiting museums and the cathedral, the different restaurants and cafés along the way. Just bring comfortable shoes! For the real Finnish exerience, buy some new potatoes straight from the producer in the marketplace and your Turku experience is complete. 
Text and photo:
Oona Haapamäki