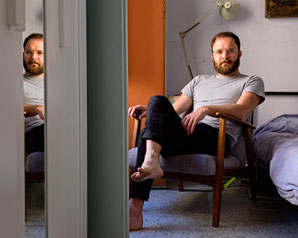 This is the Swedish/Australian visual artist Owen Armour's first residency in Rome. During his stay at Circolo he has had a lot of time to think and walk around to find inspiration for his work. He enjoys the self-reliance at Circolo and finds it different from other residencies he has participated in. 
Armour finds the city inspiring yet at the same time difficult. Difficult because you are surrounded by the works of the great artists´of history, which can be overwhelming. At the same time the city forces you to create your own space for yourself, artistically. The visual artist is familiar with Italian culture having grown up in Melbourne, home to almost 70 000 Italians. 
Being a resident artist at Circolo has been positive and educational experience. "Being the youngest artist in a group of already well established artists could be a challenge, but it has been very pleasant and I have learned so much from the others", Armour says. He really enjoys the diversity of artists from different fields, it brings the conversations to a whole new level. 
His list of favourites in Rome consists of visitng the Villa Doria Pamphili to see Caravaggio paintings, biking down the Via Appia Antica while enjoying the varying scenery and visiting the synagogue in the Jewish part of Rome. He also recommends talking and getting to know the locals, people are so much more open here than in the Nordics J. The final recommendation is going to Villa Borghese. 
During his time in Rome he has made many drawings and sketches for upcoming exhibitions and written a lot of texts for future works. He at first considered shipping some of his sculptures to Rome, but found it tedious and expensive. If he would return in the future, he could consider renting a separate studio for working on his sculptures. 
If you ever find yourself in Copenhagen, Armour's favourites include biking around the city, enjoying the good food, the shopping and the contemporary art scene. A visit to the museum of modern art Louisiana  outside the city is also a must!
Text: Oona Haapamäki
Photo: Einar Falur Ingólfsson