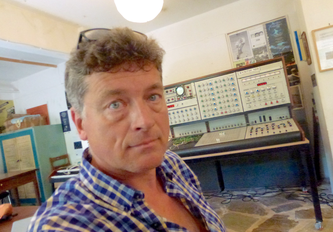 This is Jørgen Teller's first time at Circolo Scandinavo but the first time he visited Rome was in 1998 with his wife from that time. They visited all the historical monuments, they lived close to the Pantheon and Teller went to see the building every day on the vacation. "The roof and the hole in the roof just put a spell on me" he says about the building and the fact that the recipe of how to make that concrete was lost is strange and magic. A lot has changed in Rome in twenty years. Back in 1998 it was possible to walk straight into St. Peter's Basilica but now there is always a long queue. He says that he always had the spell of the city inside of him. His wife who he visited Rome with in 1998 passed away 12 years ago, so he always had this thing that he wanted to revisit Rome, not to get rid of the memories of the visit from 1998, but to meet the historical monuments for himself and see how life in Rome is now.
Teller first heard of Circolo many years ago from people saying how fantastic it was. Even though he had been checking Circolo'­­­s website for five to eight years, before now he could never be away from his kids for one month. During those years he had shorter residencies from four to seven days in different locations all over Europe and New York through his composer'­­­s union. Now his kids are so big that Teller can go away for one month and he was finally able to apply for residence at Circolo. His family travelled to Rome as well to meet Teller and they got to explore Rome together for several days.
Teller's relationship with Rome is a musical one. In the 1990s he met Italian musician Giancarlo Schiaffini who played together with Teller. When Teller was writing his application for Circolo, he contacted Schiaffini who still remembered Teller and wanted to work with him if he came to Rome. Before coming to Rome, Teller made some research about what he could be doing in the city. He found the Isabella Scelsi Foundation, which is located close to the Colosseum. The foundation keeps the archive of Giacinto Scelsi. Teller went twice to the archive and he also followed the footsteps of Scelsi, who was raised in Napoli. In Napoli Teller visited Castle Valva where Teller saw a documentary showed by a French director. About the musicians in Rome he adds that they have no fear of mixing genres and they don´t take things too seriously. 
During the one month stay at Circolo, Teller wanted to create something new and he created Roma Syntese, which is based on influences, ideas and languages he encountered in Rome and Circolo. He got quite far with the project but in the end of his stay he was frustrated about how to finish it. It was not that he couldn´t finish it but he had been in contact with foundations and organisations in Copenhagen about the possibilities to have it performed together with some musicians, and he had not yet had any positive reactions from them. The project was something he was working on in September but after that he has no substances to lift it up. He felt frustrated because there would be other things that he needed to prioritize after his stay at Circolo, because of financing and other works. He didn´t however feel like the project was lost, he will make a rough mix to score the project and close it to some extent. In the end Teller described the project "if somebody says I need to finish the project in three days I could finish the structure and organize the directive for a concert with some musicians". He didn´t want to stress it and he felt like he might just go home and rest. But there is a danger in going home and let the project rest because then he might feel like the project is just "blah". Teller has also been painting during his time at Circolo, writing poetry, doing a couple of rock demos and some improvisations with the electric guitar. One thought was also that maybe everything he has done this month could be Roma Syntese.
Teller has been recording sounds of Rome and when asked what the most interesting sound was, he responds that when he was standing at the staircase of the Olympic Stadium's swimming hall, people were standing about 20 feet away and making really nice resonance. Rome is a noisy city and from the bedrooms of Circolo you can hear the traffic almost all day long. He also liked this sound in front of Circolo, from a street tile that made a good click-click sound when people were stepping on the tile. Teller describes the sound of Rome like "a kind of cinematic thing, like sitting in a taxi rolling fast down close to the Tiber […], this kind of 50s feeling of being in Rome".
When Teller arrived to Circolo he was not expecting to know any of the other artists, and he thought that there would be no other Danish artists. He was pleasantly surprised when writer Jakob Vedelsby from Denmark was also at Circolo during September. Teller had seen Vedelsby's website but never read his works. The two Danish grew to have a good relationship in a short time. The biggest attraction at Circolo is that you meet artists you would never have met otherwise, and Teller described it as "compared to the Danish Institute, you are out of your hood here at Circolo". In the last two years he has had an interesting project called Stories of Flights Ferries and Fish and he has travelled around gathering stories about fish, flights and ferries. The project is about to finish in October. He travelled to Lofoten Islands, Faroe Islands and to Iceland during the last year, so coming to Rome in a Nordic context is fantastic Teller says.
At Circolo you are mostly alone when you work, compared to back home and here Teller has not needed to shop and cook and there has been peace to work. Then there is the terrace where one can work, and you are in the middle of a fantastic area, you can visit many historical places and the food is fantastic. He likes the Italian language, but he says he is not yet so good at it. The best part about Rome according to Teller is the night and to be out late, meet people and go to restaurants. There is a lot of surprises and strange stories hidden in all the buildings, that are interesting. He recommends a record shop called Blutopia, where he went several times during his stay at Circolo.  Local happenings were one thing that Teller was interested in during his stay in Rome, he went to Cinema Farnese, which is an arthouse cinema with documentaries and local productions. He has also been to local bookshops, where he has bought bilingual books by Pier Paolo Pasolini. In Pasolini's production Teller likes the use of old language and slang from the suburbs and the stories about Rome in the 60s.
"Take it easy" followed by a lot of laughter is Tellers tips for the artists coming to Circolo. During the first week you might feel a lot of pressure to be into your work, but you need to relax and come out of where you came from. It takes a week or ten days to get here mentally but of course it depends on who you are. He also suggests trying to find a workplace out in town to provoke yourself and get a kick in your work process.
More information about the project Stories of Flights Ferries and Fish can be found here: http://www.nustories.nu/
Photo: Jørgen Teller
Text: Tinja Räsänen