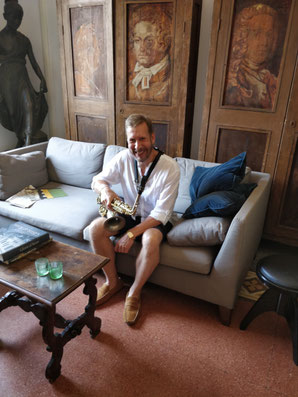 Finnish musician Pekka Pylkkänen is enjoying his very first stay at Circolo Scandinavo in the July heat. During his Rome trip last May, he was offered a cancellation spot during the Summer and after having seen the room and the house, his mind was made up, what an amazing place!
Pylkkänen is currently working on several projects simultaneously. Together with local musicians he is playing gigs in, and outside Rome. He is also composing, writing and finishing other projects.
The city has a special place in the saxophonist's heart, it's so crazy and noisy, yet still there is beauty everywhere. It's the imperfections that appeal to Pylkkänen, and the vivid culture that is everywhere. He also gives credit to the city's active music life, even though it takes a while to get to know the right people. The food and the weather are granted highlights, the city seems to offer you different new experiences each time you visit. Only sometimes does the noise and chaos frustrate Pylkkänen, like when you need to be somewhere but your transport just doesn't show up. 
When in Finland, Pylkkänen spends his time working on different projects, doing recordings and teaching. The coming year will be spent on many different tours in for example; Italy, Japan, South America, Malaysia, Singapore and different countries in Europe.  Even if it is kind of essy to fill up your calendar when you''re working on several projects at the dame time, you still have to be constantly aware of the challenges of the music business. For those visiting Finland, the Helsinki-based artist recommends walking around the harbour, the old centre and taking the ferry out to Suomenlinna fortress, Specific touristic sights won't interest Pylkkänen. "Helsinki has it's specific charm, it's a pretty quiet small city, unfortunately the music life is a bit too quiet as well". 
Text&photo: Oona Haapamäki