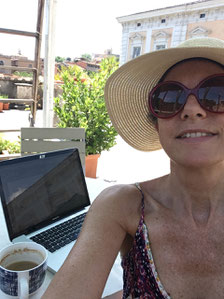 Swedish/Danish multidisciplinary performance artist Annika B. Lewis is enjoying her third stay at Circolo Scandinavo, and her fifth time in Rome. "Circolo is such a unique place and it's an excellent location in the middle of the city in Trastevere. This makes it all so much more fun and inspiring" Lewis says. The structure of the residency where you can simultaneously meet other Nordic artists from different fields of art is very artistically inspiring. The space is open for both artistic meetings as well as cultural- political- exchange about what's happening in the Nordic countries, Italy and the rest of Europe.
During the residency Lewis is working on an upcoming performance project, "The Soul Catcher ", which Lewis is both directing and choreographing and also co-creating with other artists. Her days are filled with writing, researching, preparing scenes and creating a kind of synopsis for the performance. The project is ambitious, focusing on the microcosmos and at the same time shedding light on counterproductive structures in our society. 
"Rome is such a sensual and spatial experience, which makes the city so special. All the different smells, its beauty, food and the surprisingly friendly and helpful people make the city so unique." The great selection of museums is also of much interest to the artist, especially the relatively large contemporary art scene with museums such as MAXXI and MACRO. In the summer it's great to enjoy everything from jazz to folk music outdoors in small piazzas. The only negative part about Rome is its huge tourist crowds, even though it's quite impressive that everything still works despite them. 
Lewis´s hometown Copenhagen has a lot to offer in the summer and last year it was voted number one bathing city in the world as you can take a dip in the water almost anywhere. If you don't feel like swimming, just stroll around the different areas from the fancy/funky Meatpacking district to Christianshavn with its wooden boats and coffee shops. It's a shame Copenhagen is such an expensive city, when it has so much to offer. 
More information about Annika B Lewis and her artworks can be found here:
Text: Oona Haapamäki
Photo: Annika B Lewis