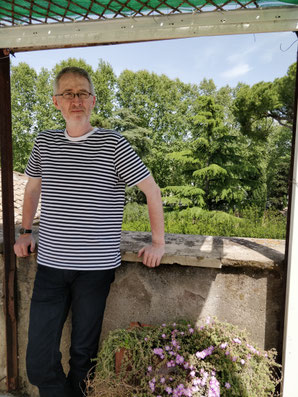 Icelandic photographer Einar Falur Ingólfsson is a resident artist at Circolo Scandinavo for the first time after hearing much praise about it from artist friends. Italy is a familiar place for the photographer which incorporates Rome in one of his current projects about important historical cities and countries. 
For the moment he is working on a large personal photographic project expected to take a year to finish. The project will, in a subjective way, discuss history from his own background in Iceland with a larger cultural background of the Western world. The key places where he is visiting and working for this project are Rome, Egypt and Varanasi in India. Each place and country has had a great impact on history, culture and the arts. He works in line with a script, naming places that need  to be immortalized. 
As his guide in Rome, he names the 19th century photographer Robert McPherson (1811-1872) in which footsteps he is now following, recreating the same views, and the American photographer Joel Sternfeld who worked on the outskirts or Rome around 1990. He has also been obsessed with Caravaggio for the last 20 years and says living 20m from a Caravaggio painting and 25m from Raphaels frescoes is something so unique, you won't find it anywhere else. It's an exellent place to work for an art history teacher. The project will result in a large book and exhibition. 
Rome is such a fascinating place where you can see and smell history everywhere, Ingólfsson says. All the historical layers are stacked upon each other and the neighbourhoods can differ so much from each other. He has visited the aquaduct park  close to Cinecitta and also went to the east of the city to see more ruins.  The city has a special casual charm that he appreciates. The community at Circolo is also to his liking with so many interesting people to meet and talk to! Surprisingly, the contemporary art scene is quite weak in Rome, but more present in the northern parts of the country he has noticed. 
As for his home country Iceland, he recommends combining the great art scene with exploring the nature. The art scene is lively and vibrant in every field, considering the country being isolated in the middle of the ocean! 
Text & photo: Oona Haapamäki