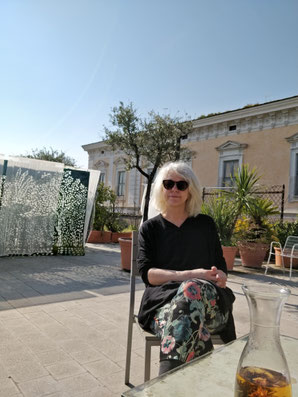 The Norwegian textile artist Ingrid Aarset is back at Circolo Scandinavo after one year. During her stay in January and February 2018, a collaboration between three residency artists; Lene Therese Teigen and Thuridur Jónsdóttir began. The project "Livia's room" has kept the three artists busy and during the two workshops in June and December, their artistic vision became clearer and clearer. This month they held a conference at the Norwegian Institute in Rome and a work-in-progress performance on Circolo Scandinavo's roof terrace. The project is meant to continue until 2021.
Aarset considers Rome an active and stimulating city, where the historical monuments speak to you and the differrent layers of baroque and renaissance show signs of human activity from such a long period of time. Since she enjoys walking around the city, the month of February was a good choice when the city is not as crowded as during the summer months.
Regarding living at Circolo, Aarset appreciates the flexibility between private and public space inside the residency. You can work with your door closed if you need privacy, and then you can meet others in the kitchen and share thoughts on work, art and life in general in a very low key manner. Also the Meet the Artists events are important for the artists not only for the visibility and connection to the cultural life in Rome, but also to get to know the other artists and their work. The only negative thing she can come to think of is the constant buzz of the city with loud traffic that sometimes wake you up at night. 
The connection to the Lene therese Teigen´s project "Livia's room" was effortless on Aarset's behalf. She came to Rome to study baroque paintings in architecture depicting illusions of textiles and immediately became fascinated by the frescoes in Livia´s Room.  Making space for a new project in your schedule is a skill you learn after being an artist for a long time. Planning is a key and also realizing how much time different tasks take and planning for calmer periods as well. 
In her hometown Bergen, Aarset is also working as a teacher in the art academy. Bergen is a city with a lot of students and the art and music scene is large considering the size of the city. Aarset recommends taking in the city by walking and enjoying both the city and the surrounding mountains. For the art scene she recommends the museums and studios in the axes from the United Sardine's Factory to the area of Møllendal, where you can find ateliers, cinemas and galleries of different sizes. 
Text and photo: Oona Haapamäki