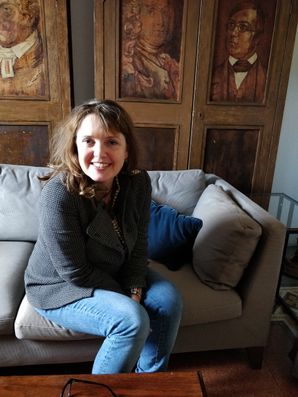 The Norwegian writer Astrid Nordang was at Circolo Scandinavo 10 years ago writing a historical novel about the Vestal virgins. The book was her only historical novel since she considers herself a contemporary writer. Nordang is inspired by walking around the city and visiting museums, sometimes it can be difficult to concentrate on work when there's so much to see! 
At Circolo Nordang can work concentrated although it can be difficult to not just walk for hours in the beautiful city. The brain is working on high speed but the words are not as fast to end up on the computer. The environment with other artists has been inspiring, especially since they are not writers and can offer another perspective. Nordang considers the residency a luxury, both hard and wonderful at the same time. 
In Rome Piazza del Popolo is a place that she enjoys immensely with its different perspectives; Villa Borghese and the gateway to Northern Rome. The place feels classless and not dominated by tourists. Sometimes it's completely empty, sometimes full of life. It's interesting to think about what used to take place there. Campo de Fiori is another favourite as is the elegantly relaxed winebar Vino&Olio where it is easy to connect with other people over a glass of wine. The only thing missing in Rome is a music scene with new up and coming aritsts. Nordang has tried to find cool concerts or clubs for contemporary music without luck.
When it comes to Nordang's homecountry Norway she can strongly recommend the literature scene. Visitors should absolutely go up to Holmenkollen to enjoy the view of Oslo along with hot cocoa and some waffles. The contemporary music scene is maybe the best in Europe according to Nordang and you can find several good concerts. Just 30 min outside Oslo you can go cross country skiing so the city is both urban and close to nature! The perfect day should also include swimming in the fiord and then enjoying some shrimp and a good beer. 
Text and photo by Oona Haapamäki