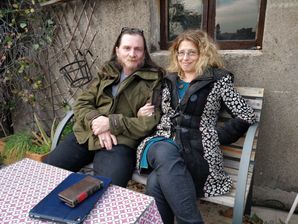 When asked about how Rome is treating the two poets from Denmark, Kenneth compares Rome to an elephant, trumpeting outside his window saying: I'M HERE! To which he would like to answer: Look elephant I heard you the first time! Kenneth jokes that Rome has deprived him of his ability to smell, and that he can't smell the pollution. Fortunately, he can still smell the flowers!
Cindy describes Rome as a place that wants to lure her outside  with glimpses of light, smells and other sensations. Walking around in Rome is something she enjoys, especially after she has checked her weather app to confirm that the weather back in Denmark is much colder than here. 
Working at Circolo has been very lucrative for the couple who are working on a mutual project about the refugee situation. They are both night owls and the good work flow has led to less sightseeing. The rooms with high ceilings also create more head space, and after having taken a long break from this project, they are both very determined to work and staying focused. 
The thought was to come to Rome to edit what they have already written, but they have also created new material during their stay. They want to write 200 poems about the essence of the refugee situation as we see it now. After almost 10 days of writing new material they might go back to editing the already existing material. All in all the stay has been very fruitful and both like it here. Adding to the positive feeling is the ambiance, the view, freedom and the interaction with the other artists with whom you can exchange thoughts about work or whatever you like! You can't force communality says Kenneth, however this months artists seem to be getting along very well with several mutual dinners and doing things together.
I ask them what they don't like about Rome and come to a mutual conclusion: the immigration laws. Other than that, they seem to like it in Rome. Kenneth says that Rome is like an old set of clothes, they feel good on you. Cindy describes the city as enticing, alive and relaxed. The couple don't feel like going back to the Nordics when Rome feels so demand free. Favourite spot in Rome seems to be Circolo Scandinavo's roof terrace and the neighbourhood in general. Also different view points such as the Spanish steps, the bothanical garden and the Pantheon are favourites. These are places where Kenneth and Cindy also have practised flash poems, and they promise that there is more to come!
If you ever find yourself in Denmark as an artist, they recommend the Held residency in the countryside. And rent a bike and explore the bike friendly country!
As a finish to the interview, words of wisdom:
Kenneth: Don't worry about not being able to resolve the problems of the world. Help one person outside your personal circle. If everyone did that, the world would be a better place.
Cindy: Be curious and open to other cultures and places. Invite other people to you home and to your heart!