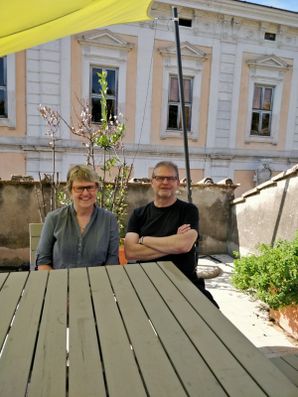 Now a small interview with Simo and Tuike Alitalo from Finland! Simo and Tuike were residents in October 2018. The interview was made 12.10.2018
The couple is interested in different sounds, and how the sound landscape can vary with time and place. The couple lives in Turku, Finland but arrange "sound walks" in different cities and countries. During the walks they urge the participants to hear their surroundings more than see them. Even for participants that live in the neighbourhood where the walk takes place, it can be a very emotional experience.
Italy is a very dear country for them and not surprisingly the love for the food here is always present, since they love to cook. The difference between Finnish and Italian cooking can be quite significant! Here they appreciate the fresh produce, especially now during the harvest.
Different levels of tourism change the way an area is used, perceived, heard and felt. The Alitalo's are interested in how the structure of an area affects for example the language spoken there. In Barcelona when a big ferry enters the city, the language of the tourists can momentarily easily overtake the local language on the la Rambla.
The growing aviation industry and the increased number of flights change the sound landscape considerably. Even though other traffic could be prohibited in for example a conservation area, airplanes are still allowed to fly over the area, affecting the soundscape.
If you every travel to Turku in the winter, the Alitalo's recommend walking on the frozen Aura River. Although this only happens every 7 years or so, the river is also beautiful in its natural state as well.
Find out more about Simo and Tuike Alitalo on Facebook: Kuulumisia-Hearkenings
Text and photo by Oona Haapamäki